Education & Information

Reviews and ratings of quality, hand-picked, UK websites
---

PiFactory
• www.friendsatwork.co.uk


Headers: Parents stuff, Homework help, The dictionary, Links – Fun stuff, Links – World maths, Links – Revision help, The mental maths gym, The level checker, Boardshots, Useful stuff, The bookshop, Today's mathematician, Today's number, Today's quotation
Content rich school maths site full of interesting stuff. Cartoons, articles, quotes, animations. Some great maths java games to try, including the fiendish Pannerotto, a proof without words of Pythagoras by David King, books, biographies of mathematicians etc. But perhaps the most interesting thing is the weekly Boardshot direct from Mr Whitfield's lessons. Whatever next, online video links to lessons? Don't be late!
---
The Straight Dope
www.straightdope.com
Numerous articles on wacky topics as diverse as "which freezes faster, hot water or cold water?" and "What does OK stand for?".
---
Coursework.info
• www.coursework.info
Headers: UK Essays & Coursework
Coursework.info has 130,000 coursework documents, written by students, covering all subjects at GCSE, I.B., A Level and University level. Access to the documents is sold as a subscription, and subscribers get access to ALL documents.
Rates are £4.99 per month, £19.99 every 6 months, or £29.99 per year.
---

Yamaha Motor Company
• www.yamaha-motor.co.jp
Headers: Papercraft
No, you are not on the wrong page! On the Yamaha website you can not only download a template for a Yamaha motorbike, you can also get templates for rare animals of the Amazon, rare animals of Japan and the seasons. Large selection to choose from.
---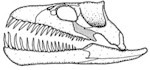 The Plesiosaur Directory
• www.plesiosauria.com
Headers: Plesiosaur Directory
You know all those dinosaurs that lived in the sea between 245 and 65 million years ago? Well, they aren't dinosaurs, they are plesiosaurs. Find out more by heading over to this delightful (yet scholarly) website.
---
Uncyclopedia
• http://uncyclopedia.org
The antidote to Wikipedia!
---
Eduweb
• www.eduweb.com
This is a marvellous collection of interactive educational websites, covering subjects from art to economics. Eduweb designs the games.
---
Fact Monster
• www.factmonster.com
This is a US website and is packed full of interesting titbits of information and although aimed at youngsters, this is a website for anyone. As well as facts there is the "Homework Center" where and lots of games and quizzes. Great site.
---
Museum of Childhood
• www.vam.ac.uk/moc/index.html
Part of the V&A website, the Museum of Childhood focuses on children's lives in the past and there is an excellent series of articles written using the V&A's childhood archives. There is also a Kid's Pages section with lots of things to do and things to make. Children are also invited to send in pictures and stories of their own.
Can't find it?
Try our search engines, price comparison and online auction pages.