---
APV Films
• www.apvfilms.com
Headers: Painting Films
Want to improve your artistic skills? APV Films has a very good range of videos and dvds of professional artists at work. You can see trailers of some of the films before you decide to buy. Founded in 1985, APV Films is one of the formost producers of art films in the UK.
---
Academy of Art Foundation, St Petersburg
• http://academart.com/index.htm


If you want to have a look at the work of some of Russia's top up and coming artists, head over to the St Petersburg Art Academy.
The pictures are extremely well presented, with high resolution images. Not only are some of the works for sale, you can also commission artwork.
---
The Metropolitan Museum of Art
• http://www.metmuseum.org/home.asp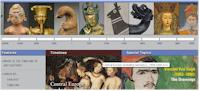 Headers: Permanent Collection, Features, Explore & Learn, Timeline of Art History
As well as inspecting the permanent and special collections at the museum online (the pictures and layout are superb), you can also brush up on your art history with the Timeline of Art History which starts around 20,000 years ago right up to the present day. Choose by period or category. Very nice website.
---
Guggenheim Museum
• www.guggenheim.org
Headers: Exhibition, Collection Onlline, Education'Programs, Shop Online
New York's Guggenheim Museum online collection features works of art from the 1860s to contemporary art. For anyone outside of the US interested in buying merchandise from the online store, they do ship internationally.
---
Artcyclopedia
• www.artcyclopedia.com
Headers: Artist Database, Articles, Art News, Art Museums Worldwide, Masterpieces
Extensive search engine of artists and museums online. If you are looking for information about fine artists this is one place to look. The artists listed are those who have work in a museum collection. You can search by name, title of artwork or art gallery. If you type in the name of an artist you are presented with links to all the museums and galleries that house the artists work. In addition there is a large number of articles on the website itself.
---
Spray Paint Art Videos
http://gprime.net/video.php/spraypaintart go here to see an amazing video of a spray paint artist Brandon Mcconnell in action
www.sprej.com videos of Janez Jevnikar.
www.spraycasso.com Video plus free tutorials and stencils.
---

Lightwedge - This is the perfect portable companion for every reader.


Simply rest the Lightwedge on your book - it beams a pane of crisp white light onto the page you are reading - without any glare or stray light disturbing others.
It's perfect for when you want to read in the dark or when there isn't much light - in bed, on a plane, in your car, when camping, even in the bath. It also doubles as a bookmark.
The Lightwedge uses cool LED lights which are guaranteed to last the life of your Lightwedge. It has two brightness levels and takes four AAA batteries (not supplied)
It measures around 7 x 9 inches so is suitable for paperback and hardback books.
• www.needapresent.com £29.99 + £3.99 P&P = £33.98
Can't find it?
Try our search engines, price comparison and online auction pages.