Organic Products

Where to buy organic products, including organic clothing, onine. Reviews and ratings of quality, hand-picked, UK websites
Related Pages:
Natural and Herbal Remedies
Specialist & Fair Trade Coffee
Shade Grown Coffee (Article)
Environmental and Conservation Websites
Ethical Retailers
---
Green People
• www.greenpeople.co.uk
Headers: Babies & Children, Cosmetics, Dental, Dietary, Gifts, Hair & Body, Home Care, Men, No Scent, Organic Body Spa, Skin Care, Sun, Trial/Travel Sizes
Green People offers handmade Health and Beauty products that are 100% Natural and Certified Organic, from toothpaste to sun cream. Plus there is a large number of products in the category "Trial/Travel Sizes" - here you can, in effect, try out many of the products at a low price before you buy the full sized ones. Neat.
• Free Delivery on orders >£100
• International Delivery Available
---
Natural Collection
• www.naturalcollection.com


Headers: Nursery/Kids, Clothing & Accessories, Gardening/Wildlife, Beautiful Home, Cleaning/DIY, Well Being, Kitchen/Grocery, Outdoor Living, Personal Care, Energy Saving/Gadgets, Office/Study, Books/Cds/Games
Stylish and well chosen range of natural, organic, energy efficient, fairly traded and hand crafted products, ranging from clothing to solar powered garden sculptures. Buy online or request a catalogue. Natural Collection is based in Sunderland.
Natural Collection has won the Daily Mail/ Ideal Home Show Sustainable Retailer of the Year Award 2006, and the Observer's Ethical Retailer of the Year Award 2006.
• Free UK Delivery on orders over £100
• International Deliveries Available
---

Seasalt Organic Cotton Clothing
• www.seasaltorganic.co.uk
Headers: Womens Clothing
Great range of fashionable clothing for women in organic cotton from size 8 to 18. The cotton used is grown without the use of chemical pesticides and the Seasalt brand name has actually been certified by the Soil Association. In addition Seasalt Organic Clothing is sponsoring a farm school in Tanzania to help local farmers grow organic cotton and also recently won the Cornwall Green Business Award for 2005 for Best Environmental Initiative.
• International Delivery Available - Europe
---
The Urban Shop


• www.theurbanshop.co.uk
Headers: Streetwear, Hip Hop, Skate Wear, Graffiti, Camo, Organic Clothing, Clothing Auctions, Forum
The Urban Shop is a UK based company selling urban fashion clothing for males. There is a very wide range of goods on offer from dozens of top brands, such as Addict and DC Shoe. They also have a 'community' where you can listen to music, see pictures or join their forum. There is even a clothes auction.
• Special Features: Urban Shop Prize Draw. Register on the site to be entered.
• Free Worldwide Delivery
• International Delivery Available
---
Adili
• www.adili.com
Headers: Designer Boutique, Women, Jewellery, Accessories, Footwear, Men, Children, Babies, Skincare & Spa, House & Home, Gifts
Large range of ethical and fair traded products - in fact Adili (Swahili word for "ethical and just") sells only ethical clothing brands. Although not all of the clothing is organic, all of the skincare products are, as are most of the household linen products. There is a very good choice of clothing and accessories, for men women and children. Adili.com Limited is based in Blandford Forum, Dorset.
• International Delivery Available
---

Belle & Dean
• www.belleanddean.co.uk
Headers: Baby Organic Clothing, Organic T Shirts & Vests for Adults & Toddlers
Based in Reading, Belle & Dean offers a delightful range of organic cotton clothing and accessories for babies, with distinctive designs such as the one shown here. All prints are hand printed using silk screens and water-based inks.
• Special Features: 14 day returns policy. Live webiste chat.
---
Bishopston Trading Company
• www.bishopstontrading.co.uk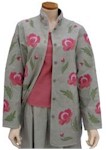 Headers: Womens Organic Fairtrade Clothing, Men, Children and Babies, Toys and Gifts, Home Accessories, Accessories, Fabric by the Metre, Children's Bedding Collection, World Music, Wedding List, Greeting Cards
Bishopston Trading Company is a fair trade company, using only Fairtrade certified organic cotton and is a member of the World Fair Trade Organisation. The Bishopston Trading Company was set up as a means of providing employment for the Indian village of K.V.Kuppam. The company has several retail outlets in the South West with head offices in Bristol. Buy online or request a catalogue.
---
Buy Organics
• www.buyorganics.co.uk
Headers: Mother & Child, Body Beautiful, Male Grooming, Organic Kitchen, Drinks Cellar, Clothing Collection, Home Store
Large collection of organic products, from clothing to herbs and spices, from paint to moisturiser. The clothing range is for men, women and children with a wide selection of maternity wear. Plus there are some excellent gift ideas. Buy Organics is based in Stanmore, Middlesex.
---
Goodness Direct
• www.goodnessdirect.co.uk
Headers: Body & Hair Care, Books, Drinks, For Baby, Freezer, Fresh Produce, Fridge, Grocery, Household, Special Diets, Sports Nutrition, Supplements
Fair trade organic foods and personal care products, including a range of organic fruit and veg boxes, fresh meat and fish as well as a very good grocery range. The website includes a number of articles on health and wellbeing. GoodnessDirect is based in South March, Daventry, Northants.
• Free UK Mainland Delivery on orders >£35
---
Gossypium
• www.gossypium.co.uk
Headers: Organic Clothing, Home Textiles, Fabric
Organic clothing for men, women and children plus bed linen, tea towels, bathroom accessories and fabric for those of you handy with a sewing machine. Gossypium products are made using orgainc and Fairtrade certified cotton from India. Founded in 1998, Gossypium is based in Brooks Road, Lewes.
---
Green Beginnings
• www.greenbeginnings.co.uk
Headers: Baby Products, Dental Care, Deodorant, Eczema / Dry Skin Care, Feminine Hygiene - Organic tampons, towels & Mooncup, Hair Care, Household, New Mother, Organic Children's shampoo, conditioner and skin care, Skin Care, Summer Sun Skin care, The Larder, Wooden Toys, Massage Waxes and Oils
Large range of organic and eco friendly products. Products contain no harsh chemicals, no artificial preservatives, no artificial perfumes, no artificial colours, no parabens and are not tested on animals. Based in Weymouth.
• Free Local Delivery
• International Delivery Available
---
Green Fibres
• www.greenfibres.com
Headers: Clothing, Bathroom, Bedroom, Kitchen, Skin Hair Body, Eco Cleaning, Materials & Fabrics, Home
Organic clothing for men, women and children plus towels, bedding, mattresses, beds, kitchen accessories, skin and hair lotions, perfumes plus much more. They also sell organ wool and fabrics. Buy online or request a catalogue. Green Fibres is based in Totnes, Devon.
---
Mini-Organic
• www.mini-organic.co.uk
Headers: Organic Clothing for Children, Nursery Accessories
Great range of organic clothing for babies and young children plus nappies, towels, blankets, lotions and fabric toys. Clothing is ethically manufactured in the UK and in India. Mini-Organic is based in Trowbridge.
• Gift Wrapping Made from recycled board of course!
---
Piccalilly
• www.piccalilly.co.uk
Headers: Children's Organic Clothing,
Although specialising in organic Fairtrade clothing for babies and younger children, Piccalilly also sells bath towels and bathrobes for adults. The items sold here are Picalilly's own branded clothing range. All clothing is made from Fairtrade certified cotton. The company is based in Rathmell, Settle, North Yorkshire.
---
Pure Organics
• www.pure-organics.co.uk
Headers: Baby Clothes, Children's Clothes, Skincare, Toys
Along with organic clothing for children, Pure Organics also sells orgainc skincare products for babies, children, women, men and teenagers. Anyone in fact. There are only just a few organic soft toys in the toy department. Pure Organics is based in Co Durham.
---
SoOrganic
• www.soorganic.com
Headers: Baby, Beauty, Body Care, Hair Care, House & HOme, Men's Products, Organic Gifts, Vegan Products
Great range of pampering and home products that are all made from organic materials and are sourced from a very wide range of organic brands. So Organic Limited is based in Greenwich, London.
---
Spirit Of Nature Ltd
• www.spiritofnature.co.uk
Headers: Baby Products, Natural Products, Environmentally Friendly Household Products, Gift Vouchers
Huge range of natural and environmentally friendly products, including organic products such as clothing (for children and adults), cosmetics, nappies and feminine hygiene producs. The range also includes things such as environmentally disposable nappies, wooden toys with toxic free paint and other products made without the addition of harmful substances. Buy online or request a catalogue. Spirit Of Nature is based in Lymington.
---
Terramar Organics
• www.terramar.co.uk
Headers: Men, Women, Kids, Printed Tees, Home Linen, Accessories, Music, Cards
Small range of organic clothing and towels. Terramar Organics is based in Aberdeen.
Can't find it?
Try our search engines, price comparison and online auction pages.