T-Shirts

Reviews and ratings of quality, hand-picked, UK websites selling online
See Also: Personalised T-Shirts
---
BobDonutAndBird


• www.bobdonutandbird.co.uk
Headers: T-Shirts
T-shirts and only T-shirts from BobDonutAndBird who offers a very wide range of funky slogan T-shirts for both men and women. Men's T-shirts are 200-220gsm, 100% pre-shrunk cotton, taped shoulder to shoulder with double needle hem and ladies T-shirts are 100% combed ring spun cotton. Discount available if you buy more than 2 shirts. BobDonutAndBird is based in Ruislip.
---
Chargrilled
• www.chargrilled.co.uk
Headers: T-Shirts
Great range of T-shirts, from funny to retro, sport to topical. Plus you can choose to have your T-shirt delivered in a can - great idea for a gift. CharGrilled in pased in Bedford. 30 day returns policy.
• Special Features: For creative types out there, a quarterly competition for an original T-shirt design. Or you might like to fill out their customer survey to be entered in the monthly prize draw to win 2 free CharGrilled T-shirts.
• Free Delivery
• International Deliveries Available
---
moreTvicar
• www.moretvicar.com
Headers: T-shirts
More T-shirts than you can shake a stick at - designer T-shirts, babies T-shirts, kid's T-shirts, Japanese T-shirts, basic T-shirts and ...bags. All at discounted prices. They currently have over 400 different T-shirt designs for men, women and children of all ages and tastes. moreTvicar is based in Greenwood Place, London NW5.
---
Primitive State
• ww.primitivestate.com
Headers: Personalised T-Shirts, Personalised Hoodies
Create your own unique Braille, Morse Code, Barcode, Scrabble and Pixel T-shirts and Hoodies, plus lots of original designs from the world of Film, TV, Music and Gaming as well as T-Shirts for Geeks. Choose from 100s of designs and select the style and colours you want. All designs are produced exclusively by Primitive State and all garments are high quality made from 100% pre-shrunk cotton. Primitive State is based in Tay Street, Edinburgh.
• International Delivery Available
---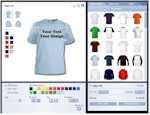 Spreadshirt Designer
• http://designer.spreadshirt.de

Headers: Personalised Clothing and Printing
Design your own T-shirts online with a very simple to use interface. You can choose the font, text size, text colour and print type plus upload you own design (or choose from one of theirs). There is a wide range of products, including children's sizes, polo shirts, tank tops, sweatshirts, hoodys, jackets, underwear, bags, hats plus lots more. Products are quality branded clothing from names such as Fruit of the Loom, Anvil, Triumph and Jerzees. Spreadshirt GmbH is based in Leipzig, Germany, and ships to countries throughout the EU.
• Free Delivery on orders >£350
---
TShirt Studio
•

www.tshirtstudio.com
Headers: Personalised T-shirts (Adults & Children), Mugs, Mouse Mats, Canvas Bag, Teddy Bear with T-Shirt, Polo-shirt (Adults)
Not just T-shirts, but other personalised items are also available with TShirt Studio. You can have just text, or you can upload your own image as well. You can send your order by post if you have an image you would like to use that is not on your computer. TShirt Studio is based in Faringdon, Oxfordshire.
• Special Offers: There is a 10% discount for orders over £50.
• Free Delivery
---
Attitude Clothing
• www.attitude.uk.com


Headers: Band Merchandise, Streetwear, Footwear, Accessories, Gothic Clothing, Punk Clothing
Wide range of bandwear and streetwear for both men and women. Brands include Criminal Damage, Dickies, Pornstar, Scary Miss Mary, Suspect Clothing, Atticus Black, Made, Level 27 and many more. Plus you can get band posters, hats, caps, jewellery, watches - even socks. Buy online or request a catalogue. Attitude clothing is based in Lincoln.
• Special Features: International deliveries available. Active forum.
---
Austin Reed
• www.austinreed.co.uk
Headers: Menswear: Formalwear, Casualwear, Accessories. Womenswear
The rather stylish Austin Reed is now online with a selection of (fairly formal) shirts and trousers for men and a small selection of items for women. The men's accessories department contains a small selection of belts, socks and underwear. You can book an appointment online at one of their stores for a consultation regarding personal tailoring. The "Hirewear" section is misleading as you are directed to their store locator - note however, they do have stores throughout the UK.
• Special Features: You can apply online for the Austin Reed visa card which features 2.5% spend back in Austin Reed Reward Vouchers.
---
Boardsport
• www.boardsportwarehouse.com
Headers: Sports and Leisure Clothing
Boardsport is now the internet brand for Hargreaves. The website offers a large range of branded leisure clothing, including footwear, sunglasses and watches for men, women and youths. Brands include Quiksilver, Animal, Roxy, Vans, O'Neill, Duffs, Nike, Adidas and Umbro. With head office in Portsmouth, Hargreaves (owned by South Coast Investments Ltd) has over 60 stores throughout England.
• Special Features: 14 day returns policy
• Free Delivery on orders >£70
• International Delivery Available
---
Cloggs
• www.cloggs.co.uk
Headers: Footwear,Jeans & Denimwear, Jackets, T-shirts & Tops, Bags, Sungalsses
This is a site for the more young at heart, men and women. Cloggs have a range of footwear from Doc Martins, Skechers, Gola, Converse, New Rock, Swear, Ikon, Ranchhouse, Tofeln, Underground, George Cox and more. Clothing from Levis, Lee, Wrangler, Pepe Bleu Bolt Alpha Parkas, Dragonfly, Karmakula, Nobby Styles, Plain Lazy. Bags from Gola, Golddigga, Caterpillar and Jansport plus sunglasses from Bolle. All items are offered at very competitive prices. If you want to visit in person, you will find Cloggs at the Oasis Fashion Department Store in Birmingham.
• Free Delivery
---
CX LONDON
• www.cxlondon.com
Headers: Womens Clothing, Mens Clothing, Art/Posters
In their words: Exclusive - Innovative - Sexy - Modern - Viva La Difference!!! There are some great clothes on this site from major brands such as Ed Hardy, Amplified, Miss Minky and many more. CX London is based in, er, Cambridge.
• Gift Wrapping: Gift wrapping and gift tag service available for a small fee.
• International Delivery Available
---
DevilWear
• www.devilwear.co.uk
Headers: Kids, Ladies, Men, Sunglasses, Gift Vouchers
Wide selection of branded clothing and accessories at very competitive prices. 100% authentic sunglasses and clothes from names such as Abercrombie, Cavlin Klein, Diesel, Dior, Dolce & Gabbana, Fendi, Gucci, Miss Sixty, Nike, Oakley, Police and many more with savings of up to 70%. DevilWear Ltd, Unit 15 Lister Road, North West Industrial Estate, Peterlee, County Durham, SR8 2RB.
• Special Features: Live online chat with a sales representative.
• Special Offers: Special offers are available all the time and are updated weekly.
• International Delivery Available
---
Dress-for-less
• www.dress-for-less.com
Headers: Women, Men, Accessories
Dress-for-less is an online designer outlet offering great savings (up to 70%) on a large range of well known designer items for men and women. You will find bargains from brands like Disney, Tommy Hillfiger, DKNY, Rusty Neal, Calvin Klein, Mishumo and many more. They have a product range of up to 2,500 different products suitable for all tastes. They also have a large range of accessories including designer bags, backpacks, belts and sunglasses. Dress-for-less is based in Floersheim, Germany.
• Free Delivery on orders >£50
---
isme
• www.isme.com
Headers: Womens, Mens, Babies & Kids, Electronics, Appliances, Home & Garden, Sports & Leisure, Toys & Games, Jewellery & Gifts
Isme is the online arm of Marshall Ward - many of you may be familiar with the Marshall Ward catalogue. Like most catalogues, they sell a wide range of clothing for all the family, plus household and leisure items. If you don't want to pay for goods immediately, you can set up an Assist account with them and pay monthly. No credit charge is made if you pay by the due date. If you prefer, you can order a catalogue online. Marshall Ward also offers a range of financial services including loans and insurance.
• Special Features: Free 14 day returns policy - goods will be collected. Sign up for the newsletter and be entered in a monthly draw to win £1000 to spend online at Marshal Ward.
• Special Offers: 10% discount with your first order.
---
My Designer Clothes
• www.mydesignerclothes.com
Headers: Jeans, Shirts, T-Shirts/Knits, Hats, Footwear, Underwear
Casual designer clothing from brands such as Armani, Burberry, Etienne, Hugo Boss, D&G, Moschino and Stone Island plus a 14 day money back guarantee. My Desinger Clothes is based in Blackburn, Lancs.
• Free Delivery
---
Noflysonus
• www.noflysonus.com
Headers: Men, Women, Accessories, Footwear
Looking for trendy streetwear? Very good range

of clothing for both men and women. Accessories include bags, underwear, hats and caps. Top brands such as Pucca, Emily Strange, Blythe, Chunk, Hello Kitty, DrunknMunky, Scary Miss Mary, 555Soul, Bico, Fine, Golddigga, Gimp, Ruby Gloom, Roman Dirge, DISNEY'S Ink & Paint and Gimp. Noflysonus is owned and operated by Premierserve Ltd and is based in Derby.
---
Nucleus
• www.nucleus-online.com
Headers: Ladies , Mens, Footwear, Accessories, Surfing Accessories
Leisure wear website providing leading brand fashion ranges from Etnies, Vans, Art, Emerica, Billabong and many more. Nucleus (owned by Island Leisure) has two shops in Swansea, which is the base of their operations.
• Special Features: 14 day returns policy.
• International Delivery Available
---
oki-ni
• www.oki-ni.com
Headers: Men's Clothing, Women's Clothing, Jewellery & Accessories


oki-ni works in collaboration with a range of brands such as Adidas, Duffer, Diesel and Evisu to create stylish clothing and lifestyle unique to oki-ni and only available online from oki-ni.com. All designs are produced in limited numbers to maintain rarity and uniqueness. New products are introduced on a monthly pbasis. Oki-ni is London based with a store in Savile Row plus outlets in Glasgow, Hong Kong and Stockholm. Great website.
• International Delivery Available: Worldwide
---
Plain Lazy
• www.plainlazy.com
Headers: Men's T-shirts, Men's double sleeve T-shirts, Girls T-shirts, Hoodys, Beanies, Accessories, Lazybaby
Plain Lazy has a great range of clothes with a variety of Plain Lazy logos to choose from, including Lazybaby for newborns up to 2 years old! Accessories include Plain Lazy mugs, belts and wallets. In addition, you can also get Gratis pendants, wallets, chains, bracelets and key chains. So, if you know anyone who is a bit on the lazy side .........
---
Seasalt Organic Cotton Clothing


• www.seasaltorganic.co.uk
Headers: Womens Clothing
Great range of fashionable clothing for women in organic cotton from size 8 to 18. The cotton used is grown without the use of chemical pesticides and the Seasalt brand name has actually been certified by the Soil Association. In addition Seasalt Organic Clothing is sponsoring a farm school in Tanzania to help local farmers grow organic cotton and also recently won the Cornwall Green Business Award for 2005 for Best Environmental Initiative.
European deliveries available.
---
StoneIsland.co.uk
• www.stoneisland.co.uk
Headers: Shirts, T-Shirts, Trousers, Outerwear, Knitwear, Sweatshirts, Jackets, Jeans, Accessories
Men's casual clothing from the official C.P. Company, Stone Island Denims and Stone Island website. Note that these clothes are quality designer clothes and as such are not cheap! Buy online or use the website to find your nearest stockist.
• Free Delivery on orders >£300
---
Swerve Clothing
• www.swerve.co.uk


Headers: T Shirts, Tops, Knitwear, Shirts, Jeans, Jackets, Daniel Christian Collection, Accessories
Swerve Clothing UK sells a range of casual designer clothing for men. All the top names are there, including Armani, Versace, Calvin Klein, Tommy, Diesel, DKNY etc. Shirts, t-shirts, tops, jeans, skirts, jackets, and a limited stock of underwear. Swerve is based in Reading, Berks.
• Special Features: 14 day return policy.
---
The Urban Shop


• www.theurbanshop.co.uk
Headers: Streetwear, Hip Hop, Skate Wear, Graffiti, Camo, Organic Clothing, Clothing Auctions, Forum
The Urban Shop is a UK based company selling urban fashion clothing for males. There is a very wide range of goods on offer from dozens of top brands, such as Addict and DC Shoe. They also have a 'community' where you can listen to music, see pictures or join their forum. There is even a clothes auction.
• Special Features: Urban Shop Prize Draw. Register on the site to be entered.
• Free Worldwide Delivery
• International Delivery Available
---
YuKKa
• www.yukka.co.uk
Headers: Men: Beanies, Footwear, Hats & Caps, Hoodies & Sweats, Jackets, Jeans & Bottoms, Polo Shirts, Replica Jerseys, Shirts, Shorts, Sweaters, T-Shirts, Underwear, Vests & Tank Tops


Women: Bottoms, Day Tops, Denim, Dresses, Footwear, Going Out Dresses, Going Out Tops, Headwear, Jackets, Lingerie & Nightwear, Outerwear, Shorts, Skirts, T-Shirts & Tops, Trousers
Excellent range of urban clothing and accessories from a very large number of brands such as G-Unit, Shady Ltd, Urban Access, ECKO, RocaWear and Ed Hardy plus many more. As well as clothing there is a range of branded accessories including bags, hats, belts and luggage. Established in 2003, Yukka is based in Romford.
• Free UK Delivery on orders >£50
• International Delivery Available
Can't find it?
Try our search engines, price comparison and online auction pages.