Podcasting

What, where and how
---

Contents
http://news.bbc.co.uk - Highlights from BBC's Question time
http://www1.talksport.net/
Talk Sport have a new podcast page. At the moment they have The Best of the Alan Brazil Sports Breakfast and the The Mother of all Podcasts - George Galloway with more to come.
Podcasting is a method of distributing files, such as audio programs or music videos, over the Internet. Then they are played using mobile devices such as mp3 players and personal computers.
There are more and more of these now on the net. For example Virgin Radio do some great podcasts. Here is how you would subscribe to one of them ...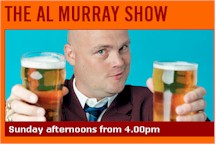 Really a podcast is like having a subscription to all your favorite shows. When you subscribe to a podcast, your computer will automatically download new shows when they become available ... Let's take "The Al Murray Show" as an example.

Sunday afternoons from 4.00pm: Pull up a stool to the Virgin Radio bar, and let the nation's favourite pub landlord, Al Murray, serve up some music, meat, and merriment for a cracking Sunday afternoon.
The Virgin page Get the Podcast gives you the following

feed address: http://www.virginradio.co.uk/djsshows/shows/al_murray/podcast.xml
You will find that every podcast will give you an address like this.
To download a podcast using these addresses, you just need a computer with an internet connection and a some podcast software. Juice (freeware) is a good choice but you can try any of the ones further down the page, or just search google for free podcasting software.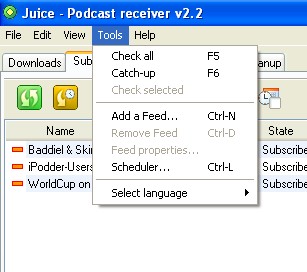 Using Juice as an example you would click on the Tools menu at the top and click "Add a Feed".
Simple add the feed address. Then all you do is click the Green "Check for new podcasts" button on the left and the lastest podcast will be downloaded to your computer.
From then on whenever you use Juice you will get the latest podcasts that you have added to Juice.
Then you just use your normal media player or mp3 player to play the file.
Free podcast software packages:
http://juicereceiver.sourceforge.net/index.php -

includes a built-in directory with thousands of listed podcast feeds.
http://brooklynnorth.com/ - Old style retro radio look. You can look for and listen to feeds online or download them to play on your computer or mp3 player.
http://www.dopplerradio.net/?page_id=74 - Very smooth simple program that does the job.
Now once you have your software you need some more podcasts! Here are a selection but of course you will find loads using Google or MSM etc on our search engines page.
Podcasts
Virgin Radio Podcasts
Christian O'Connell Breakfast Show
The Geoff Show
Ben Jones's Best of the Guests
Recent and archive interviews, including out-takes and more. Fortnightly; exclusive for podcast. more info
The Road to V
Al Murray: the pub landlord
A Great British weekly podcast, including the meat raffle, and Sunday lunches across the United Kingdom. more info
The Tim Lovejoy Show
The best bits from Tim's show, including guest interviews. Back later this year; subscribe now to get Tim's return automatically. more info
http://www.nature.com/nature/podcast/index.html


Each week Nature publishes a free audio show, presented and produced by Chris Smith and Anna Lacey at the University of Cambridge, UK, and sponsored by Bio-Rad. Each show features highlights from news and articles published in Nature, including interviews with the people behind the science with in-depth commentary and analysis from journalists covering the research.
http://www.bbc.co.uk/radio/downloadtrial/
As part of a trial the BBC are offering a selection of programmes and highlights packages as downloads and podcasts. This is in addition to the BBC Radio Player where you can already listen to most programmes.
http://www.bbc.co.uk/radio1/chrismoyles/worldcup/index.shtml
The Chris Moyles Show.
http://www.pinkgeekaudio.net/weblog3/
The Adventures of Sherlock Holmes including short stories and whole books!
http://www.ebayjournal.com/


Renée Gentry's eBay Journal is for eBay buyers and sellers. Learn how to get started on eBay...and how to get better. How-to, hints, and help. The show is a free podcast
http://www.shakespearecast.com/


The Complete Works of William Shakespeare podcast one Act at a time! Full text, full cast! Voices from Los Medanos College, Antioch Classical Theatre Company, & Antioch High School.

---
More Podcasts ...
Check out the amazing Yahoo Podcast Directory which is categories plus fully searchable.

http://podcasts.yahoo.com/
Huge catalog of the best podcasts on the Web from Yahoo. Includes search and directory.
---
Can't find it?
Try our search engines, price comparison and online auction pages.