Mahjong

Play Mahjong online - Website reviews
Please note that this page is about the traditional game of Mahjong as played with four people, not the tile matching game!
Mahjong is actually a gambling game, and we have listed a number of websites where you can play other people online for money. There are also many sites where you can play online for fun and for free and these are listed also.
Because there seems to be quite a variation in Mahjong rules throughout the world, all of the sites below will have slightly different instructions for playing the game and scoring. You pay your money and take your choice! There are Chinese rules, American rules, Taiwan 16 tile rules, Hong kong rules, Chinese old style, European classic rules and you can probably find a lot more!
A quick note about the spelling and pronunciation. Confused? You should be! The word appears to be spelt Mahjong in the far east, Mah Jong in the UK and Europe, and Mah Jongg or Mah-Jongg in the US. As the game was actually invented in China, we've decided to go with the spelling "mahjong" in any discussion. As for pronunciation, I had a Chinese boss once who was a mahjong expert (when he went home he would spend whole nights in mahjong gambling houses) and he always pronounced the "j" as in jungle. So there you have it.
If you are new to Mahjong and would like to practise before playing online with other people, you can buy fairly inexpensive software to use on your own computer, playing with virtual players. We have also listed a number of suitable books from Amazon at the bottom of the page.


Here are 3 software downloads we would recommend: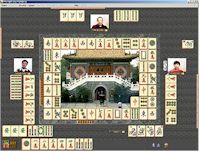 Hong Kong Mahjong
www.ninedragons.com
Headers: Features, Demo
Download the game for a free trial - the try it and buy version is a 14.3MB download - and if you like it you can unlock the full game for around £11. Alternatively you can buy the CD for $24. Note that shipping is from California, but the value is below £18 so there is no import duty or VAT to pay.
---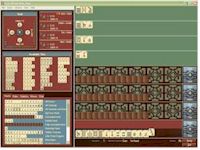 Four Winds Mah Jong
www.4windsmj.com
Headers: Software, Documentation, Knowledge Base
Traditional Mah Jong for windows or PDA. Choose from a variety of rules. The cost is €30 for a new license plus an extra €12.5 if you want the CD. Evaluation version is a 3.7Kb download.
---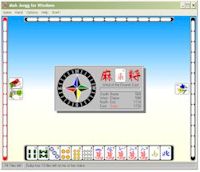 The Mah Jongg Web Site
www.mahjongg.com
Headers: Mah Jongg Software, Rules, Scoring
14 day free evaluation period for this software package - if you like it, its $29.95 to unlock the game. Its a 1.4 Mb download. Quick and easy installation. Simple but fast and colourful game with various options such as tile, rule and scoring configuration. You don't get to see the discarded tiles so this is more skillful than the others!
---
Playing Mahjong online:
Jade Dragon Mahjong
www.jadedragonmahjong.com
Headers: Join Now, Play Now, Download, How to Play, Rules
Play for free or for money, the choice is yours. Play against computer or human opponents. To play simply hit the Play Now tab and choose a free or a pay room. Jade Dragon is part of Oneplay, a UK based games network and supports Chinese Official rules, American rules, Taiwan 16 tile, Hong kong rules / Chinese old style and European classic rules.
Mahjong Time
www.mahjongtime.com
Set up an account for free. You play against other players online and there is no download required. Live multi player tournaments where there is cash and prizes up for grabs. Membership is free and Mahjong Time will take a percentage of each player's tournament fee. There are also free games available.
National Mah Jongg League
www.nationalmahjonggleague.org
Headers: The League, The Game, Online Game, Membership, Services
This is the US Mah Jongg League. In America, Mah Jongg was standardised in 1937 and the only US changes are those instituted by the League. (It looks to me like the name should be standardised. I think I prefer the Far Eastern spelling). You can play online here if you subscribe which is $30 per year.

The Internet Majong Server
mahjong.game-host.org
Headers: Getting Started, Games Rules
Free game which allows you to play against virtual players or with other players over the internet. Chat with other players. Log in and join a game or just observe other games in progress. Its free!
TUMJ
www.tumj.com
Headers: How to Join, Rules, Dragonboard, Scoring System
There are no instructions on how to play Mahjong on this site - just register and join in! Its free. You play against other real players and there are no downloads. You can also chat to other players.
World Mahjong Players Association
www.wmpa.net
Headers: How to Play Mahjong, Play Mahjong Online
The WMPA was formed in 1999 by mahjong devotees from Japan, Korea and HongKong with the intention of unifying the many variations of local rules found throughout the far east. To play online first register and then download the software MKonline. Beginners should choose "Machinko" in order to get a grade before playing with other players.
---
More Information:

Maj Exchange
www.sloperama.com/majexchange
Headers: Maj Exchange Boards, The Mah-Jongg FAQs
This is a US site (can't you just tell from the spelling?!) and has loads of information and links plus the boards are full of interesting snippets and observations from mahjong enthusiasts.
The Online Guide to Traditional Games
www.tradgames.org.uk/games/Mah-Jong.htm
Headers: Mah Jong - History and Useful Information
An excellent history of the game which incidentally has only been around since the middle of the nineteenth century.

Mah Jong Museum
www.mahjongmuseum.com
This is an online museum with excellent photographs of old and modern mahjong sets, including some of the old playing card mahjong sets. There is also a series of articles including a history of the game, and instructions on how to play.
---
Mahjong Books from Amazon:
Can't find it?
Try our search engines, price comparison and online auction pages.