Gifts - UK Shopping

Reviews and ratings of quality, hand-picked, UK websites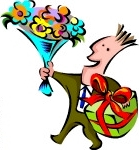 Need a gift but not sure what to buy?
The websites below together offer a large range of gift ideas. We start off with dedicated gift shops and then follow on with shops that offer more specialised, and sometimes unusual, gift ideas.
See Also:
Personalised Gifts
Food and Drink Gifts
Charity Gifts
Newspaper Gifts
Experience Days
Christening Gifts
Wedding Gifts
Gift Services
Gift Vouchers
---
Need a Present
• www.needapresent.com
Headers: Gifts For Men, Gifts For Women, Gifts For Children, Gadgets & Gizmos, Food & Drink, Lurrrve Stuff, Funny Gifts, Pamper & Groom, Home Sweet Home, Office Stuff, Personalised Gifts, Wow Gifts, Wedding Presents, Christening Ideas, Anniversary Gifts, Corporate
Well worth a look if you need to buy a present at the last minute as there is same day despatch Mon-Fri if you order before 3 pm. Great range of unusual gifts and gadgets for most occasions and to suit most tastes.
• Gift Wrapping: comes with free card and message
• Special Features: No quibble 60 day returns policy!
• Free Delivery on orders >£100
• International Delivery Available
---
A1Gifts
• www.a1gifts.co.uk
Headers: Anniversary, Baby, Birthday, Candles, Christening, Drinking Games, Experience Days, Figurines, Gadgets, Personalised Gifts, Photo Frames, Remote Control
Large range of gifts for all tastes and occasions including wedding anniversaries, special birthday gifts, christening, bronze art and more. There is also an articles section where you can get information on baptisms, christenings, godparents and appropriate gifts. A1 Gifts is based in West End, Southampton.
• Special Features: Free gift reminder service. 21 day returns policy. Prize draw: Sign up to their email and you will be entered automatically. Loyalty scheme whereby you get 5% of your total spend with them in gift vouchers.
• Gift Wrapping: Full gift wrapping service with a choice of wrapping paper.
• Free UK Delivery on orders>£50
• International Delivery Available
---
Buyagift.co.uk
• www.buyagift.co.uk
Headers: Driving, Flying, Relaxing, Wet'n'Wild, Ultimate Gifts, Other Gifts, Adrenalin Zone, Other Activities, Traditional Gifts, Gift Vouchers, Corporate, Personalised Gifts, Personalised Vouchers
Easy to navigate website offering a wide range of experience day gifts from Ferrari and rally driving days to hot air ballon rides and health spas. Or maybe you fancy a plot of land on Venus? (Don't forget your breathing gear!). Lots of unusual gifts such as an Andy Warhol Style Portrait. Also you can buy flowers, wine and hampers here. Buyagift is based in Enfield, Middlesex.
• Special Features: Price promise guarantee that if you purchase any gift experience from them and within 14 days you find the same experience advertised elsewhere at a lower price, they will refund 120% of the difference.
• Special Features: Money Vouchers are available in addition to specific experience vouchers. Plus you can purchase personalised vouchers and boxed gift sets.
• Special Offers: £5 discount. Enter the code 170274 at the basket.
---
Find-me-a-gift.com
• www.find-me-a-gift.co.uk
Headers: Men, Women, Children, Seasonal, Special offers, Health & Beauty, Wedding, Corporate.
Indoor remote-control helicopters, wedding presents, massage oils, cuddly toys ... we're talking all sorts of gifts. The site is quick and easy to browse, and there's a gift-suggestion service and search facilities. They can send cards out for you with your personal message handwritten inside the card (Although this might look a bit odd if it is not like your handwriting?) Gift vouchers are available for £10 and £25 and can be sent to you by e-mail or by post. The postal version is a proper paper voucher inside a gift card. The emailed version is emailed to you to forward it on to the recipent. They can then easily use it at the checkout by typing in the number in the email..
---
Gizoo
• www.gizoo.co.uk
Headers: AV & Communications, PC & Gaming, Health & Fitness, Home & Garden, Travel & Leisure, Toys & Games
Great website. Huge selection of gifts and gadgets for most tastes and interests, from garden games to phone gadgets. Excellent and easy to navigate if you want to browse, but it also has a quick to use search facility and a gift finder. You can also add a review of any product if you wish. Gizoo (formerly The Gadget Store) is owned and operated by Serif (the PC software people) and is based in Nottingham.
• Special Features: Prize draw - review a product and win a £50 Gizoo voucher.
---
The Gift Experience
• www.thegiftexperience.co.uk
Headers: Aromatherapy Gifts, Baby Gifts, Birthday Gifts, Bottle Stoppers, Candles, Christening Gifts, Gift Experience Days, Other Occasions, Personalised Gifts, Photo Albums, Photo Frames, Soft Toys, Wedding Anniversary Gifts, Weddings, Christmas Gifts & Presents, Corporate Gifts
Established in October 2003, The Gift Experience is an internet retailer and offers a very wide range of quality gifts, with same day dispatch Monday to Friday. The personalised gift section is very good with over 250 items to choose from. The Gift Experience is based in Mereside Industrial Estate, Fenns Bank, Nr Whitchurch.
• International Delivery Available
---
Hawkin's Bazaar
• www.hawkin.com
Headers: Bath Time, Batteries, Books, Calendars, Creative, Drink, Games, Garden, Gifts, Great Things, Home & Office, Jokes & Magic, Juggling, Music, Naughty Adult, Outdoor, Pet Stockings, Playtime, Puzzles, Science
Eclectic range of fun and unusual toys, gifts, gadgets and novelties for all ages. Over 800 items in stock. Buy online or request a catalogue. Hawkin's Bazaar is based in Harleston, Norfolk, and has a chain of high street shops throughout the south of England.
• International Delivery Available
---
Kiki James London
• www.kikijames.com


Headers: Address Books, Journals, Photo Albums, Photo Frames, Wallets & Purses, Travel, Baby, Corporate Gifts, Guest Books, Men's Leather Goods, Ladies' Leather Goods
Stylish, quality leather goods from Kiki James. All products are made from high quality materials and can be embossed with initials, names, company logos, dates - whatever you wish. There are 3 types of embossing available.
• Gift Wrapping: All items gift boxed as standard, and there is also a bespoke gift wrapping service available.
• International Delivery Available
---
Past Times Online
• www.pasttimes.com
Headers: Entertainment, Classic Toy Cars, Bookstore, Home Gifts, Jewellery, Special Weekends
Past Times Online brings you a selection of gifts all inspired by period designs of the past. From nightwear to jewellery, books, chess sets, stationery, retro CD players and treats for the home and garden. Some of their goods are authentic replicas of historic originals and most are exclusive to Past Times. They have also begun selling "Special Weekends" such as exploring the life of Jane Austin or exploring Hadrian's Wall. Currently Past Times has over 70 stores in the UK. Buy online or order a catalogue.
• Special Features: Gift Finder
• Gift Wrapping: They will handwrite your personal message (up to 15 words) on the gift tag.
International Delivery Available
---
Prezzybox
• www prezzybox.com
Headers: Little Gems, Gadgets, Fun Things, Home & Living, Garden & Outdoors, Experience Days, Personalised Gifts
Zappy site with 1000's of gifts and gadgets at very competitive prices. There is also a useful Gift Wizard if you are struglling on what to buy. Member of the Which Web Trader's Association. rezzybox is based in Austrey, Warwickshire.
• Special Offers: Prezzybox has offered us a £5 discount off every order over £20 for our readers. Just enter the code EASYTORECALL at the checkout.
---
OtherLand
• www.otherlandtoys.co.uk
Headers: Gift Ideas, RC Toys, Gadgets, Games, Discovery, Collectables, Outdoors


Weird games, electronic gizmos, whacky executive gadgets, also the "discovery store" has some nice scientific and educational activity items from a gold plated micro-stirling hot air engine to a 3D space projector. Lots of Lord of the rings stuff and usefully a battery shop where you can buy extra batteries for all of their items. Otherland Toys Ltd, Lee Valley Technopark, Unit 101, Ashley Road, Tottenham, London, N17 9LN.
• International Delivery Available
---
Presents For Men
• www.presentsformen.com
Headers: Presents for Men, Gifts for the Girls, Travel Paraphernalia, Accessories, Essentials
Presents for Men is a long established UK mailorder company with a large range of over a 1000 gifts; from gadgets to jewellery. There is also a well stocked travel department with a range of items for both backpackers and executives. Presents For Men is based in Cleator Moor, Cumbria. Buy online or order a catalogue.
• Special Features: Monthly Prize Darw. Just sign up to receive the Presents for Men free email newsletter.
• Gift Service: They will include your own card and message and dispatch it together with any item.
• Free UK Mainland Delivery on orders >£150
• International Delivery Available
---
Pulp Shop
• www.pulpshop.co.uk


Headers: Fun Gifts, Bath & Body, Greetings Cards, Icon Collections, Accessories, T-Shirts
Fun and funky gifts, cards and T-shirts including such things as fridge magnets, mugs, alarm clocks, coasters, glassware and much more. Great fun! Pulp Shop is based in Westbury, Wiltshire.
• Free Delivery on orders >£20
• International Delivery Available
---
ThanksDarling
• www.thanksdarling.co.uk
Headers: Gift Experiences, For the Home, Big Boys Toys, Adult Games, Kid's Stuff, Jewellery, Traditional, Gadgets & Gizmos, Personalised Gifts, Other Gifts, Gift Vouchers
Based in Docklands, London, Thanksdarling offers a huge range of experiences, with something for everyone, from a glamorous day on the Orient Express to a recording studio experience! There is also an extremely eclectic collection of products for sale which should make selecting a gift here quite simple.
• Special Features: Reminder service. Enter important dates and get an email plenty of time in advance!
• Gift Service: You can choose to have your gift pack delivered directly to you, directly to your recipient, or to another address you specify.
• Free Delivery
---
The Bespoke Gift Company
• www.thebespokegiftcompany.co.uk
Headers: Personalised Poem Gifts, Personalised Photo Gifts, Babies & Children, Gifts for Him, Gifts for Her, Silver Gems, Wedding Gifts
Very nice and sometimes unusual personalised gifts, including bespoke poems (love it!), canvas art, silverware, personalised CDs, glass and much more. There is also a special category for personalised gifts for babies and children. Lots of ideas if you are looking for a personal and unusual gift. The Bespoke Gift Company (formerly The Poetry Studio) is based in Banstead, Surrey.
• International Delivery Available
---
Treat Her
• www.treather.com
Headers: Gifts
Treat Her specialises in delivering exclusive and unusual women's gifts directly to her door. The website offers a wide range of products suitable for most tastes from less than £10 to over £500, with a gift selector if you are not sure what to buy.
• Gift Service: Every gift is carefully packed and presented and includes a personal message from you, handwritten on a gift card. Most items may, as an optional extra, also be gift wrapped in a luxury hand-made gift box with white tissue paper bedding.
---
telegrams-worldwide.com
• www.telegrams-worldwide.com
Headers: Worldwide Telegram Delivery Service
Telegrams-Worldwide send telegrams throughout the world using the Telegraph System Network. The telegrams are then delivered by courier. You can also send flowers, chocolates or a fruit baskett with your telegram. Not all countries are connected to the network - see the site for a list. Telegrams are either sent the same day or the next day depending on what is ordered.
Can't find it?
Try our search engines, price comparison and online auction pages.