Franking Machines

Reviews and ratings of quality, hand-picked, UK websites
---
Pitney Bowes Franking Machines
• www.pitneybowes.co.uk
Headers: ranking Machines, Folders & Inserters, Letter Openers, Addressing Printers, Forms Handling Machines


Pitney Bowes is a provider of mail and document management solutions. They have recently launched into the SOHO market with a digital franking machine designed specifically for small businesses and home workers. PersonalPostT is offered on a 30 Day Free Trial with £20 Free Postage to use during the trial and a Free Company Logo so you can advertise on the mail you send.
• Special Offers: 30 day free trial.
---
Neopost AutoStamp
• www.neopost.co.uk
Headers: Autostamp Franking Machine, Post Room Machines, Accessories


Businesses can take advantage of Royal Mail franking machine discounts plus with Neopost you can add personalised slogans to your mail. In addition Neopost sells a variety of post room machines including shredders, letter sorting units, automatic letter openers, folders, electronic stapler,date and time stampers and digital weighing machines. Neopost is based in Romford, Essex.
• Special Offers: 30 day free trial.
---
Smart Stamp from the Royal Mail
• www.royalmail.com
The Royal Mail has developed an online postage service called SmartStamp®. With SmartStamp®, you can print postage from your PC, anytime you need it. Plus you can add your company's logo.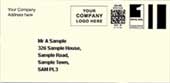 • Access your account securely from any PC
• Personalise your envelopes with your company logo
• Control your budget with statements to view and print
• Mail Merge your postage with your business address books.
SmartStamp® is a subscription service, so you pay a monthly fee of £4.99 every month or just £49.99 a year, plus your normal postage costs. You're then free to print postage onto envelopes or labels, whenever you need them.
• Special Features: You can download the software in trial mode for free to try it out before you decide to subscribe.
Can't find it?
Try our search engines, price comparison and online auction pages.