Foreign Currency

UK websites - if you are looking to buy or sell foreign currency, purchase a property abroad, buy a car from abroad or if you are a business interested in impoting/exporting.
Ways to take your spending money abroad: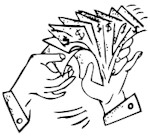 Cash: Exchange your sterling at your bank, post office, travel agents or you can do it online - see below. Rates can vary from place to place and from time to time, so do shop around.

Travellers Cheques: Safer than cash as you can get these replaced very quickly. Again you can get these at your bank, at the Post Office, at your local travel agent or online. And again - rates can vary from place to place and from time to time, so do shop around.

Travel Card: Sometimes known as a Cash Passport. Available in Euros, US Dollars and Sterling. This is a preloaded card that can be used like a credit card. Again, this is more secure than cash and you can take more than one card so that if the first is stolen you can use the second!

Credit Cards and Debit Cards: Most convenient but beware; you may have to pay a fee to withdraw cash and make purchases abroad on you credit card or your debit card. Typically you will have to pay a conversion fee (around 2-3%), ATM withdrawal fees, increased interest rates for cash withdrawals.
Check with your bank and credit card provider to find out exactly what charges may be levied.
Where to Buy Foreign Currency
---
Post Office
www.postoffice.co.uk
The Post Office is offering 0% commission on foreign currency orders. Order your currency and American Express Travellers Cheques online and pay at your local Post Office branch.
---
Travelex
www.travelex.co.uk
Headers: Foreign Currency
You can buy your foreign currency and travellers cheques online at Travelex. You can also get a cash passport here (a card that is preloaded with your spending money before you travel - the card can be used at ATMs, in shops and restaurants etc., worldwide). The exchange rates at Travelex are also pretty competitive - its always a good idea to look around before you buy your currency as rates can vary considerably from one porvider to another. Travelex has branches at most major UK airports.
Other Foreign Exchange Services
---
TorFX
• www.torfx.com
Headers: Foreign Exchange
Independent foreign exchange brokers. Useful site to bookmark if you are buying or selling property overseas or importing/exporting. TorFX are able to pass on to clients savings from "interbank" rates of exchange. (I think this means trade prices in finance terms!).
• Special Features: Special schools scheme whereby the school can raise money by promoting a foreign exhange service to pupils families.
---
HiFX
• www.hifx.co.uk
Headers: Foreign Exchange: Business, Personal
With head offices in Windsor, Berkshire, HiFX is a large privately owned, international, company with operations in Europe, North America and Australasia. As well as offering foreign exchange services to businesses, HiFX also offers a variety of services to individuals, including property purchase, emigration, money transfers and insurance.
Currency converter
This quick caclulator is updated live. Every known currency available.
• convert
Can't find it?
Try our search engines, price comparison and online auction pages.