Webwatch Featured Products

Reviews and ratings of quality, hand-picked, UK websites
---

Lightwedge - This is the perfect portable companion for every reader.
Simply rest the Lightwedge on your book - it beams

a pane of crisp white light onto the page you are reading - without any glare or stray light disturbing others.
It's perfect for when you want to read in the dark or when there isn't much light - in bed, on a plane, in your car, when camping, even in the bath. It also doubles as a bookmark.
The Lightwedge uses cool LED lights which are guaranteed to last the life of your Lightwedge. It has two brightness levels and takes four AAA batteries (not supplied)
It measures around 7 x 9 inches so is suitable for paperback and hardback books.
• www.needapresent.com £29.99 + £3.99 P&P = £33.98
---

Leather Travel Document Wallet -
Passport holder, currency wallet, travel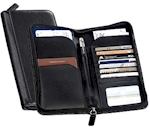 document organiser—an essential travel accessory in luxurious, full grain leather.
It's designed specifically to conveniently carry your most important possessions when you travel.
Folder pockets on the left are designated to hold your tickets and passport; and on the right, a nylon-backed pocket with a built-in depression allows easy access to your currency when you want it and a secure hold when closed.
The wallet features a pen holder on the central spine, plenty of slots for airline, hotel and phone cards, and a windowed business card slot with thumb opening for easy removal. There's also an external pocket on the back to hold your boarding card.
www.essentials4travel.com £29.95 £0 P&P = £29.95
---


Sonia Spencer Best Man Cufflinks - Be the creme de la creme of all gentlemen with these luxury bone china cufflinks. Made in England.
• www prezzybox.com £16.95 + £3.95 P&P = £20.90
• Special Offers: Prezzybox has offered us a £5 discount off every order over £20 for our readers. Just enter the code EASYTORECALL at the checkout.
---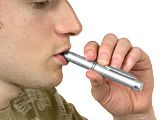 Pocket size Breath Tester - So are you over the limit? Of course if you have to ask yourself the question, then the answers very probably yes, and you should be walking home. This nifty little gizmo is an ever-ready portable breath tester that will tell you if your alcohol content is over 0.25mg/l. Simply blow in the end, and if you're over the limit*, a red LED goes on, and it's the bus for you.
As well as telling you whether you're a tad on the merry side, the unit also incorporates a UV tester. Once exposed to sunlight, the white fan sensor on the pen changes colour according to the level of intensity of the sun's UV rays. There's nothing worse than being pissed and burnt, so kill two birds with one stone, and make sure you're protected from both!
Never drink and drive!
• www.iwantoneofthose.com £19.99 + £3.95 P&P = £23.94
Can't find it?
Try our search engines, price comparison and online auction pages.