Chess Sets and Accessories

Reviews and ratings of quality, hand-picked, UK websites selling chess sets online.
Back to: Chess Main Index
Big Game Hunters – Giant Chess Sets and Garden Chess Sets
• www.gardengames.co.uk/acatalog/Giant-Chess-Sets.html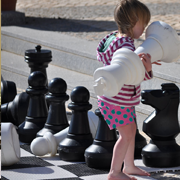 Headers: Chess Sets, Garden & Outdoors, Outdoor Games, Family Games, Kids Games, Board Games
Range of Giant Chess Sets amongst a huge range of garden games including the garden chess sets. The chess sets are weather proof and come in two sizes. Accessories such as mats are available, as well as packages including draught sets too. Big Game Hunters are experts in outdoor play, including garden games. Giant games are a speciality, including their giant chess sets as well as games like giant jenga, giant draughts and giant dominoes.
• Free delivery on orders over £150, orders placed before 12pm will be despatched the same day.
---
The Regency Chess Company
• www.regencychess.co.uk
Headers:Chess Pieces,Chess Boards & Tables, Chess Sets, Diamond Jubilee Chess Sets Folding & Travel Chess, Tournament Chess Supplies, Chess Cases & Clocks, Chess Computers Backgammon Sets, Mah Jong Sets, Chess Books, Ex-Display & Clearance, Gift Vouchers
Impressive range of quality sets and boards including a nice selection of folding wooden travel sets. You can even get a garden set for £49.99. Also stock more arty things like the beautiful Isle of Lewis sets. Ex display and clearance section. Have some great customer testimonials flashing top right and will do a next day express order service.
• UK Free shipping. Orders placed before 3:30pm will be shipped same day. Orders placed after 3.30pm will be shipped the following working day.
---
Camberwells
• www.camberwells.com
Headers: Backgammon Sets, Board Games, Bridge, Canasta, Card Boxes, Chess Boards, Chess Pieces, Chess Sets, Themed Chess Sets, Electronic Chess, Chess Clocks, Cribbage, Dominos, Draughts, Go, Mah Jong, Mancala, Games Compendiums, Playing Cards, Poker Accessories, Poker Chips, Poker Tables & Cloths, Shut The Box, Solitaire, Sudoku
Camberwells is a traditional games retailer selling a large range of chess and backgammon sets, mah jong, poker chips, playing cards and dominoes. This is a very easy to navigate and uncluttered website. You can browse by category or by price range - great if you are looking for a gift. Camberwells is based in Hartham Road, Middlesex
• International Delivery Available
---
Farscape Games
• www.farscapegames.co.uk
Headers: Backgammon, Chess, Dominoes, Mah Jong, Jigsaws n Stuff, Wooden & Pub Games, Pedal Cars & Ride Toys, Adult Games, Board Games, Card Games, Dice Games, Family Games, Garden Games, Kids Games, Table Games, Travel Games
If you love games, you will probably love Farscape Games. Thousands of games to choose from for all tastes and ages plus air hockey, pool/snooker tables, football tables and table tennis. In addition, there are pedal cars, rocking horses, metal pedal planes and loads of other great stuff. Farscape Games is based in Gunnislake, Cornwall.
• Free Delivery on orders >£40
European Union Deliveries Available
• Special Offers: Sign up to the newsletter and get 10% off every order.
---
Holdall
• www.holdall.co.uk
Headers: Aquashoes, Athletics, Badminton, Basketball, Boxing, Cricket, Croquet, Fitness, Football, Footwear, Garden Games, Golf Gifts, Handball, Hockey, Indoor Games, Medical Items, Netball, Replica Kits, Rugby, Running, Skates & Boards, Snooker/Pool, Socks, Squash, Sunglasses, Table Tennis, Tennis, Toboggans, TP Outdoor Activities, Trampolines, Volleyball, Watches
Holdall sells a large and diverse range of sports equipment, including clothing, footwear, sunglasses and accessories, for most sports. In addition, they also sell a nice range of indoor games including all the usuals like chess sets, roulette, etc. and also some more unusual ones such as carpets bowls and step quoits plus they have a great selection of garden games and outdoor accessories such as swings, sand pits and trampolines. Holdall is based in Chorleywood, Hertfordshire.
• Free Delivery on orders >£120
---
Scottish Quality
• www.scottishquality.com
Headers: Art, Crafts, Food & Drink, Home & Garden, Jewellery & Watches, Music, Sport, Tradition, Scottish Houses, Custom Engraving
As the name might suggest, the products on the site are uniquely Scottish, from stunning photographs and art prints, knitwear, leatherwork and textiles, gourmet food and whisky, to stylish home accessories, all made and designed in Scotland. You can even buy the designs for a house based on the Scottish blackhouse and longhouse. Naturally, there is a Lewis Chess set, handcrafted on the Isle of Harris. Scottish Quality is based in the Isle of Skye.
• Special Features: 30 day returns policy
---
Sunshine Bits
• www.sunshinebits.com
Headers: Basketball Equipment, Fitness Equipment, Garden & Outdoors,

Hammocks, Home & Living, Indoor Games, Outdoor Games, Picnic Sets, Playcentres, Sports Equipment, Table Sports, Trampolines
Very good range of both indoor and outdoor leisure products from basketballs to giant chess sets, and hammocks to bar stools. And not just for the home - Sunshine bits stocks products suitable for clubs, schools and corporate events. There is also a very good selection of indoor games including chess,, home casino and party games as well as more traditional games like cribbage, bagatelle, mah jong and penny arcades plus lots more - great for gifts for all ages. The website is fast and very easy to navigate. Sunshine Bits is a trading name of JDL Enterprises (UK) Ltd and is baed in Cambridge.
• Special Features: 14 day returns policy
Good for giant chess sets
---
Toy Day
• www.toyday.co.uk


Headers: Bathtime, Creative, Educational, Traditional, Wooden, Collectable, Other Toys, Jokes & Magic
Excellent range of traditional classic and collectable toys, with a great appeal for all ages. Very easy to navigate website. Toyday Quality Classic Toys & Collectables is based in East Looe, Cornwall where there is also a shop you can visit in person.
• Special Features: 14 day returns policy.
---
Number One Chess Sets


• www.wooden-chesssets.co.uk
Headers: Hand Made Wooden Chess Sets, Chess Accessories, Backgammon Sets
Excellent, and very large, range of chess sets, boards and clocks, including magnetic and resin sets. Prices are very reasonable indeed. Number One Chess Sets is based in Oldham.
• International Deliveries Available
Can't find it?
Try our search engines, price comparison and online auction pages.