Biscuits on the Net

Article by Graham Brown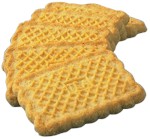 Biscuits ... comprising sugar, flour and fat - from the Latin 'bis coctus' meaning twice (bis) cooked (coctus). This is because the first biscuits were made by re-baking a flat cake that had already been cooked.
Biscuits are pretty much maligned by half-cooked western nutritionists for their "high calorific density" - in other words there's too much fat in them but, we say, what's wrong with that now and again? It's the fat that makes them delicious. Lets face it, biscuits have been produced and eaten successfully for thousands upon thousands of years. One fact can not be denied ... biscuits are absolutely yummy.
What is the difference between a biscuit and a cake? That's easy. When cakes go stale they become hard and when biscuits go stale they become soft. This fact was used by the biscuit, I mean cake(!), manufacturer McVitie to get their Jaffa cakes (which are a lot like biscuits) classified as cakes which, unlike biscuits, are not liable for VAT.
You can read a fairly simple run down of the technical details of biscuit production at The Regional Institute (an Australian website) but I decided it was time to hit the recipe sites.
It turned out to be quicker and easier than I thought to make tasty biscuits. From seeing an interesting recipe on screen, to the finished product took me 30 minutes. My level of cooking? ... beginner. You may expect to do better. As I dunked my masterpieces I reflected that biscuit baking is one of those rare activities where the absolute beginner shines. And they were tasty and hot! The following recipe for shortbread is just about the most simple (yet also delicious) biscuit recipe you can get!
Shortbread
125g/4oz butter
55g/2oz caster sugar
180g/6oz plain flour

1. Beat the butter and the sugar together
2. Add the flour and stir to get a smooth paste.
3. Put onto a floured surface and roll out until the paste is around 1cm (or 1/2") thick
4. Cut into desired shape, eg rounds or fingers etc.
5. Sprinkle with a little extra caster sugar
6. Next turn on the oven to 190C/375F/Gas 5
7. While the oven is heating up put the as yet uncooked bistcuits onto a baking sheet and then chill in the fridge for around 15-20 minutes.
8. Take the biscuits out of the fridge and bake in the oven for around 15-20 minutes until they are just golden brown.
9. Cool on a wire rack if you have one.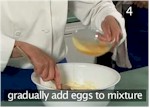 If you are new to biscuit making, Video Jug has several"how to" videos of people making biscuits, from simple butter biscuits to luscious chocolate chip cookies.
The videos take you through the process step by step, so you cannot go wrong. What could be easier?
More Biscuit Recipes

The Joyofbaking has a great selection of mouthwatering biscuit recipes.
You will need to scroll down through a list of recipes to find some delicious traditional Scottish biscuit recipes from Rampant Scotland.
More biscuit recipes than you can shake a stick at from Biscuit- Recipes.co.uk. Well with a name like that, what else?
Other Biscuit Articles/Websites
http://uncyclopedia.org/wiki/Biscuits. For an alternative history of biscuits.
www.nicecupofteaandasitdown.com. Very funny article about biscuits.
www.plesiosauria.com/dinobiscuits/index.html. Dinosaurs and their biscuits. Who knew?
www.standards.dfes.gov.uk/schemes2/designtech/det5d/?view=get. Did you know that making biscuits was part of design and technology at key stage 2? Have a look at the lesson guidance from the DFES.
Can't find it?
Try our search engines, price comparison and online auction pages.