History - Websites

Reviews and ratings of quality, hand-picked, UK websites
---
The Aerial Reconnaissance Archives
• www.evidenceincamera.co.uk
Headers: Who Are We?, Searching the TARA, Products & Services, Image Shop, Newsletter, Links.
Created by The Aerial Reconnaissance Archives (TARA) at Keele University. You can access 5.5 million photographs taken over occupied Western Europe, by the Allies during World War II. It costs nothing to register, and you are able to search the online TARA catalogue. You can also purchase a low-resolution scan of your target location, and then either a digitally enhanced high-resolution scan or digitally enhanced photographic print. Not the easiest site to navigate or search, but the massive amount of interesting free content makes up for that.
---
BBC History
• www.bbc.co.uk/history/
Headers: Ancient History, Archaeology, Church & State, Historic Figures, History for Kids, History Trail, Multimedia Zone, Reading Room, Science & Discovery, Science & Culture, Timelines, Wars & Conflict, WW2, Your History.
Huge resource which can truly be described as true Edutainment if such a word is allowed. In-depth articles, timelines and short biographies of historic figures, alongside games, virtual tours, animations. The multi-media is of course excellent compared to most sites, just a shame there aren't more full length programs in the archive given that this is the BBC but they are coming we are told. The 'People's War' is very interesting to read. It is for readers to pass on their memories of 1939-1945 for future generations. 'Lucky for Me: Boy Meets Girl on Coventry Train, 1942' is one such example.
---
BBC Schools
• www.bbc.co.uk/schools/
Headers: Pre-school, Ages 4-11, Ages 11-16, 16+, Revision Guide, Games, Teachers, Parents tips
The BBC have provided lots of practical help and information here for students, teachers and parents on all subjects. Teachers will find downloadable worksheets and lesson ideas, students can find revision guides and there is a huge amount of information for parents from science at home to eating disorders.
---
Black Presence
• www.blackpresence.co.uk
Headers: Get Started, History, News, Your Say, Archive, Links
Specialises in providing information about black British history. In addition they have many links to other related websites. Also Aims to uncover and honour as many Black role models as possible to inspire today's youth. Also is keen that teachers in both junior and primary schools should find the site useful.
---
British History Online
• www.british-history.ac.uk
Headers: Place, Subject, Source, Period, People, Tax, Business
A digital library of text and information about people, places and businesses from the medieval and early modern period, built by the Institute of Historical Research and the History of Parliament Trust. Free registration required to use the advanced features, including a personal bookshelf.
---
The British Library
• www.bl.uk/index.shtml
Headers: Collections, Catalogues, Services, What's On, News Comprehensive information about the Library, the scope of its collections, and how to use its services, along with supporting images and sounds. You can view some of their greatest treasures online, including 'turning the pages' a Shockwave-enabled online view of the Leonard da Vinci notebook. There are also resources and activities for the National Curriculum. Specialist journals such as Welfare Reform on the Web - an electronic journal on developments in the welfare state and the Electronic British Library Journal - the history of the Library and its collections. You can View the text of selected newspapers through the Library's pilot Online Newspaper Archive.
---
British Monarchy
• www.royal.gov.uk/output/Page1.asp
Headers: The Monarchy Today, The Royal Family, History of the Monarchy, Art & Residences.
This is the 'official web site of the British Monarchy' so it surely is a good place to look for info on Kings and Queens. Indeed the 'History of the Monarchy' is a beautifully designed page with some very high quality images, artwork and a great deal of detailed information.
---
British Museum
• www.thebritishmuseum.ac.uk
Headers: What's On, Visit, World Cultures, Learning, Compass, Children's Compass
This is mostly a site about the Museum, opening hours, tickets etc. But there are some factsheets and online learning resources. Perhaps the best part is the excellent Compass section. This is an on-line database featuring around 5,000 objects. There are also links to background information and maps. There are online tours on a variety of subjects, including introductions to the current exhibitions. Each object featured is illustrated with high quality images that you can enlarge and study in detail.
---
Burke's Peerage & Gentry
• www.burkes-peerage.net
Headers: Search Records, Subscribe, Books
You can now buy a selection of Burke's publications, including the 107th edition which includes family histories of certain titled families, an index of 120,000 living people, articles on the Royal family, listings of over 3000 Kinghts and their families plus Scottish and Irish Chiefs and Feudal Barons. You can also buy "Burke's Landed Gentry The Kingdom in Scotland", which has over 850 biographies, online for a reduced price of £99. If the high cost of these books puts you off - the 107th ed comes in at around £415 - you can always buy a subscription which allows you to search their records online. 1 year's subscription is £64.95, or you can get the 24hr subscription for £15.95. The site also contains a free browsable A-Z guide containing information about genealogy, heraldry, history, places plus more and including such nuggets as the words to Auld Lang Syne, a brief potted history of the Boer War, and an explanation of british titles.
---
Channel 4 - History
• www.channel4.com/history
Headers: Archaeology, Ancient Inventions, Secrets of the Dead, Biography, The Georgians, Cultural History
Have an hour of film and video clips from the ITN Archive. Specific clips can be found with relevant text throughout the website, but there is a drop down list of all the clips in chronological order in the Guide to the 20th Century page. There are also transcripts for all clips containing speech.
---
Discovery Channel - History
• http://dsc.discovery.com/guides/history/history.html
Headers: History Favourites, More History, Explore History
Mostly supporting material for their TV programming but it stands on it's own as a good site anyway. Have an 'ask the expert' section and a 'behind the scenes' feature. You can also buy plenty of History DVDs.
---
Early British Kingdoms
• www.earlybritishkingdoms.com
Headers: History Favourites, More History, Explore History
Covering the period from AD410 to 937AD, expect to find articles, maps, chronologies, biographies and much more. There is also a special section for children with easy to read articles on the period.
---
Explore Parliament
• www.explore.parliament.uk
Headers: Themes, Topics, Teachers' Centre
Website aimed at teaching what happens in Parliament, what goes on inside the Palace of Westminster, and what the House of Commons or House of Lords look like. This is achieved with games and activities and there is a teachers guide including curriculum maps which show how the online activities can be used in teaching various parts of the curriculum.
---
Greenwood's Map of London 1827
• http://users.bathspa.ac.uk/greenwood/index.html
Headers: The Map, Place Names, History.
Exactly as advertised, this is an old map of London. And it has been scanned in a very high resolution so you can zoom into incredible detail. Then up down, left and right buttons allow you to examine this huge old map of London.
---
History Learning Site
• www.historylearningsite.co.uk
Headers: Key Stage 3, GCSE, A Level History, A Level Politics
Extremely unflashy site but just loads of material for key stage 3, GCSE, A Level History and Politics.
---
Hyper History Online
• www.hyperhistory.com
Headers: Options, People, History, Events, Maps.
A very well laid out site. The main 'timeline' in the middle scrolls horizontally. If you click the 'people' button on the left and then the 'select period' 1500 - 2000 on the right then you can see as you scroll that Copernicus was followed by Kepler then Newton then Watt etc. And also, looking down the page, that Kepler lived at the same as Titian etc. Clicking on each person's timeline brings up information about them in the right hand frame. You can do the same with 'events, and 'history'. The Maps section displays seven Periods of World History with many links to dozens of regional maps. A great site for detail but also a brilliant place to browse around and quickly get a feel for history.
---
History.uk.com
• www.history.uk.com
Headers: Topics, Competitions, Features, DIY History, Timeline, News.
Plenty of articles and interesting stuff. Includes a good section on food, for example you can get a recipe for "Frumenty", an easy-to-make wheat porridge. It was used in medieval times as an accompaniment to meat dishes and also as a breakfast cereal. Also have a free history screensaver to download.
---
History on the Net
• www.historyonthenet.com
Headers: History Topics, Resources, History Games, Reference.
Historical information linked to the English National Curriculum, for teachers, pupils, parents and anyone who wishes to further their historical knowledge. Range of games and interactive activities with a History theme a lot of them quite exciting as they have a 60 second timer on them.
---
English Heritage Viewfinder
• http://viewfinder.english-heritage.org.uk
Headers: Picture Gallery, Stories, Whats New?, About ViewFinder, Links
A new online image resource for England's history. The Picture Gallery and Stories contain illustrations of the industrial age, social history (including the Henry W Taunt Collection), architecture and archaeology, dating from the 1840s to the present day. All the photographs are included in a browsable picture library, while selected images are structured into photo essays. Some great old black and white photos on this site.
---
First Flight
• http://firstflight.open.ac.uk
Headers: History of Flight, Models, Aerodynamics, Aero-Engines, Flyers, Future of Flight
Not a great deal of content on this site yet and some pages just have 'to be completed' on them. But worth a look if you are interested in the history of flight.
---
History World
• www.historyworld.net
Headers: World History, Timelines, Specialist Articles
All sorts of history articles, tours and timelines. But perhaps the Whizz Quizz is the highlight of this site. It is an online game in which you can pit your speed and skill against other competitors. A new challenge starts every hour on the hour. If you are the fastest so far, you feature on the Home Page as Whizzard of the Hour.
---
The History Channel
• www.historychannel.com
Headers: This Day in History, Video/Audio, Discussions, Classroom, The Club, History Quiz.
Homepage of the Digital TV station 'The History Channel' Of course they also have plenty of information about their digital TV stations output. But it is also a great site for video clips including a 'this day in history' section, historical icons, arts and society etc. Also have a history quiz.
---
Macro History
• www.fsmitha.com
Headers: World History
Written by Frank Smitha, the website consists of a huge number of scholarly articles (with accompanying images) covering a large swathe of history from prehistory to the present time. In addition there are maps, country profiles, definitions and comments. A great achievement and very readable.
---
National Archives
• www.nationalarchives.gov.uk
Headers: Start Your Research, Catalogues, Online Records, Quick Order, Education, Bookshop, Events.
The National Archives is a new organisation launched in April. comprising The Public Record Office (PRO) and the Historical Manuscripts Commission (HMC). Together they comprise one of the largest archival collections in the world, spanning 1000 years of British history, from the Doomsday Book to government papers recently released to the public. The PRO has another website called documents online which allows you online access to The National Archives' collection of digitised public records, including both academic and genealogical sources. Searching the index is free, but it costs £3.50 to download a digital image of a document. Both the PRO and the HMC have plenty of free services for people visiting in person. On the web though, you are far more likely to have to pay for it.
---
The National Archives - Learning Curve
• http://www.learningcurve.gov.uk
Headers: Exhibitions, Focus On, Snapshots, Games & Activities, Index, Recommended Sites, Teachers Guide
Teaching resource, structured to tie in with the History National Curriculum from Key Stages 2 to 5. Contains a varied range of original sources including documents, photographs, film and sound recordings. Has a large film archive with search facilities, for use with both quick time and windows media player. Also teacher guides available for download in word and pdf format.
---
National Library of Scotland/Maps
• www.nls.uk/maps
Headers: News, Collections, Info for Users, Catalogues, Digital Library, Professional Info, Search
Online site full of free historical maps of Scotland. You can zoom in so far you can see the dots of ink. It starts with 1,300 of the most important maps from the first four centuries of the mapping of Scotland then there are the earliest surviving detailed maps of Scotland, made by Timothy Pont over 400 years ago, in the 1580s and 1590s. All the maps are easy to navigate and the site is beautifully presented.
---
Old-Maps.co.uk
• www.old-maps.co.uk
Headers: Place Name, Co-ordinate, Address
Digital historical map archive where you can search for a map, by place name, address or OS Grid Reference. You can buy printed copies of the maps but they are all good quality on the net, and although the site is not the quickest on the net they are all free!
---
The Roman Empire
• www.roman-empire.net
Headers: Interactive Maps, Main Chapters, Bulletin Board, Picture Index, Kids' Section, FAQs, Links
Absolutely huge site with over 70mbs of information. Practically every click seems to bring up a pop up advert but it is worth it if you are looking for information about the Roman Empire. There are all sorts of articles, activities and photos. Free 'Send a Roman themed postcard' feature.
---
Scottish History Online
• www.north-scotland.co.uk
Headers: Scottish History, The Picts & Celts, Image Gallery, Scots History Club, The Duncans, Clan Societies
A History of It's Modern, Medieval, Prehistoric, Pictish and Celtic past going back nearly 8000 years. Plenty of photos and articles. Also have an online shop where you can buy all sorts of CDs DVDs and books related to Scottish History.
---
The Metropolitan Museum of Art
• http://www.metmuseum.org/home.asp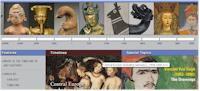 Headers: Permanent Collection, Features, Explore & Learn, Timeline of Art History
As well as inspecting the permanent and special collections at the museum online (the pictures and layout are superb), you can also brush up on your art history with the Timeline of Art History which starts around 20,000 years ago right up to the present day. Choose by period or category. Very nice website.
---
The Starry Messenger
• www.hps.cam.ac.uk/starry
Headers: Links, themes, Personalities
The Starry Messenger is an Electronic History of Astronomy supported by funding from Trinity College, Cambridge. The early history of astronomy is covered in a clear way over 100s of well indexed and linked pages. Lots of interesting graphics and maps complete a must-view site for anyone interested in the history of Astronomy.
---
Tudor History
• www.tudorhistory.org
Headers: Who's Who, Life In, Architecture, Maps, Genealogical Trees, Topics, Chronologies, Glossaries, Electronic Texts, Students' Guide, News & Events, Movies & Television, Tudor Humour.
If you are into Tudor History then this is the website for you. There is even a pen-pals section so you can correspond with other Tudor fanatics. There is a student's guide by the author who very unbiasedly advises not just to use the internet and gives some book recommendations. There is also a page on Tudor History on Film and Television.
---
Tudor Britain
www.tudorbritain.org


Headers: Court of Henry VIII, Fun, Religion, Tudor Life, Trade, Joust!
All sorts of interactive fun that at the same time teaches visitors to the site about Tudor times. There are real documents and objects from Tudor times intergrated into fun but testing games. And you can even have a go at Jousting! Also have notes for Teachers.
---
Your Old Maps online
• www.yourmapsonline.org.uk
Headers: Maps & Etchings Index by County.
Site specialising in old UK maps. They are available free mostly in pdf format for which you need the free adobe acrobat available as a free download at www.adobe.com. The site is updated regularly and has a huge amount of maps on it. The site does exactly what the title promises.
Can't find it?
Try our search engines, price comparison and online auction pages.